About Qlik Sense
---
Qlik Sense sets the benchmark for a new generation of analytics. With its one-of-a-kind associative analytics engine, sophisticated AI, and scalable multi-cloud architecture, you can empower everyone in your organization to make better decisions daily, creating a truly data-driven enterprise.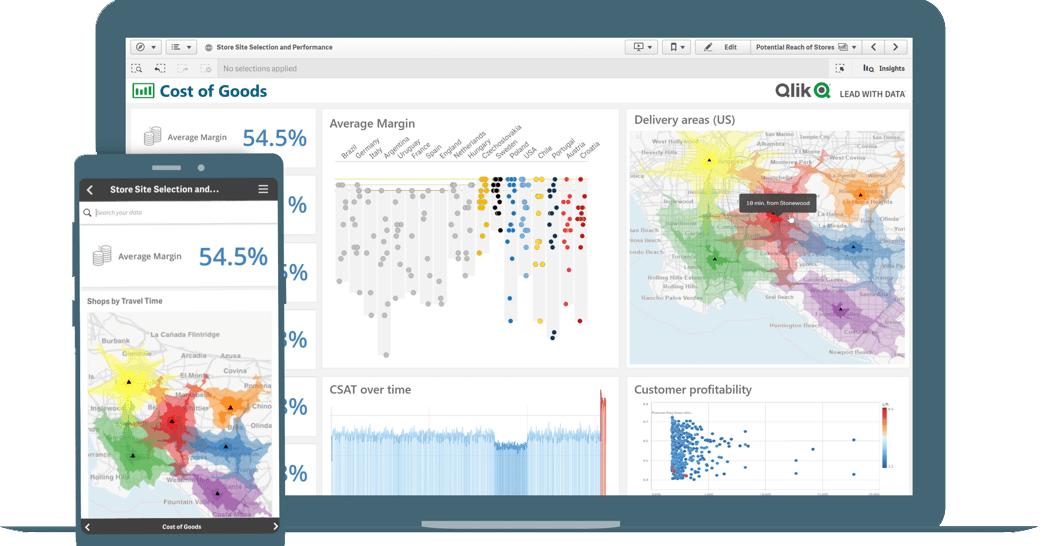 TEN OVER TEN Advantage
TEN OVER TEN invested in the integration of QLIK SENSE with SAP Business One, thus, made analytics possible for small to midsize companies, our data model enables Sap Business One customers to dice and slice multiple companies' data at the speed of the thought.
Self Service
Easily combine, load, visualize, and explore your data, no matter how large (or small). Ask any question and follow your curiosity. Search, select, drill down, or zoom out to find your answer or instantly shift focus if something sparks your interest. Every chart, table, and object is interactive and instantly updates to the current context with each action. Smart visualizations reveal the shape of your data and pinpoint outliers. And get even more value from your data with AI that suggests insights and helps you create analytics with drag and drop simplicity.
Mobile
Qlik Sense is built for mobility, with responsive design and touch interaction native to the platform. Easily create and explore analytics, collaborating with your team using any device. Build analytics apps once and they work everywhere. And you get fully interactive offline analysis on iOS, and support for leading Enterprise Mobility Management (EMM) platforms.
Interactive Dashboards
Create, share and distribute powerful dashboards to support executives, business leaders, and anyone else that needs to stay on the pulse of the business. Every element is interactive, taking users beyond the static dashboards of the past. When something stands out, easily dive in to explore what's happening. Powerful global search and selections help you quickly hone in on the information needed to understand the situation and take action. With Qlik Sense, dashboards become a powerful jumping-off point to make better, data-driven decisions.
Online Cost Estimation tool
Estimate your investment, yes, we made it online and free
Download License guide
You might understand your users but not their License requirements in QLIK