About SAP Business one
---
Affordable Business management applicatio designed for Small and Mid-sized Businesses with 1-250 users. End to end autmation for core processes and flexibility to customise customer specific needs. free mobile apps from SAP and well designed extensions and addons from Ten over Ten labs.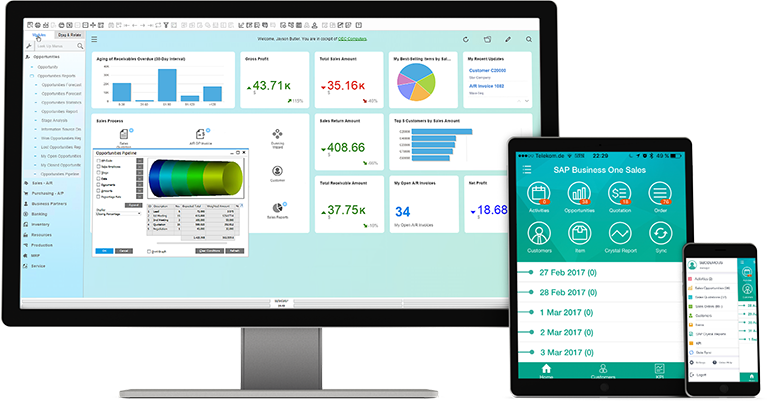 We did it before!
Industry specific solutions designed by supply chain experts and developed with extensive attention to scalability and maintenance.
Modern Methodology!
Agile implememtation methodology blended with customs training programs for Millennialsto harvest creativity and feedback to deliver more solutions and less redundant development.
Affordable Digital Transformation
Modular and Scalable Solution to provide SME's with ERP, Analytics and IOT solution leveraging the re-use of connectors and integrations worth top dollars.

Online Cost Estimation tool
Estimate your investment, yes, we made it online and free
TEN OVER TEN invested in the integration of QlikSense with SAP Business One, our connector allows Sap Business One exiting or new customers to have reay dashboards, KPI's and in-memory lightining fast reporting in 48 Hours. With our connector, you can go-live with SAP Business one and keep your historical data, consolidate data from different databases or even see how your ERP data look like when joined with your excel sheets, social media data and big data.
TEN OVER TEN has its mobile web app that adds mobility to SAP Business one processes, now you can capture proof of delivery and attach it to relevant Delivery on SAP B1, or take a picture of stock nonconformity and email it to your supplier.
B1See allows your team to see whats going on the floor and how things is progressing with Reception, Pallets movement, production and Jobs progress on a big screen in real time without pressing a single button.
Sometimes your team need to send updates on order/job progress by clicking a button on a screen without complicated navigation, drop down lists and screen scroll downs. well, we have you covered with B1Feed.